Dr. Lynn Foster DVM, CVA is proud to serve the Whitehouse, Tyler, and East Texas areas in providing quality and compassionate veterinary care for your pet. Dr. Foster is experienced in diagnostic medicine and surgery. She is one of only a few vets certified in veterinary acupuncture for dogs, cats, and horses (that's the "CVA" after her name). She is especially interested in geriatric medicine and animal behavior and offers home consultations and farm calls using her well-recognized mobile veterinary clinic.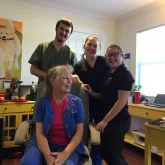 Our veterinary clinic, located between Tyler and Whitehouse, is bright, clean and colorful, and we know you and your pet will love the open and friendly atmosphere. We never "take your pet to the back" for procedures--you are welcome and encouraged to remain with your pet to comfort and reassure you both.
We strive to provide quality care at fair prices. We offer only the highest quality vaccines, at low cost. We keep our prices for heartworm preventatives and other medications competitive with internet prices, while ensuring that the products are the "real thing" by purchasing only from authorized distributors or directly from the drug manufacturers.

Our veterinary team is enthusiastically committed to educating our clients in all aspects of pet health, including weight control, good nutrition, vaccination schedules, and preventive care. We will do our best to ensure that you and your pet enjoy many healthy and happy years together.
Dr. Foster was voted "Outstanding Participating Veterinarian" in 2018 for her dedicated work with area high school FFA students, and students of all ages train at the clinic and assist with low-cost vaccination clinics in surrounding communities.
Licensed Veterinary Technician

Dakota has been working with Dr. Foster for about 11 years since he was just a high school graduate. Dakota graduated Magna Cum Laude with an Associates Degree in Applied Sciences in 2015. With the help of a presidential scholarship from TJC, Dakota graduated with an Associates Degree in Veterinary Technology from TJC in 2019 at the top of his class. Dakota owns several cats yet prefers to work with dogs.


Veterinary Assistant

Mikayla has been working for Dr. Foster for about 8 years, starting when she was only 13. She graduated from the University of Arkansas in May of 2021 with a Bachelor of Science and a minor in Agricultural Business. She has applied to Veterinary School and is hoping to attend in the Fall of 2022. Mikayla has a family full of pets, including her cat Razor.